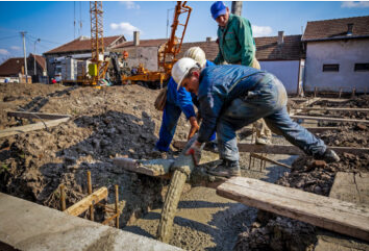 Concrete driveway can improve your home
Are you in the process of looking at different driveway ideas for your home? Plenty of options are out there for you to choose from. But among all of those choices, you might want to take at concrete driveways and what they can offer to your home.
A concrete driveway might be the best choice for you. It offers several benefits that can add to your home that other materials simply can't provide. If you haven't experienced having a concrete driveway before, then you might want to explore what it's capable of doing for you and your home.
Read on below to find out how a concrete driveway can improve your home. After all, there are real benefits to choosing and having them installed in your home and you have to learn what each of those is.
Concrete Driveways are Long Lasting
If there's one thing that you can guarantee about concrete driveways, it's that they'll be able to last a long time. It's capable of lasting for as long as 30 years if it's given proper care and maintenance.
This places the spotlight on concrete's durability once again and rightfully so. It's capable of withstanding intense pressure and carrying heavy loads so it's definitely ideal as a driveway, especially if heavy vehicles are going to pass over it.
Eco-Friendly
Not a lot of people might be aware of this, but a concrete driveway offers an eco-friendly option. The reason it's considered eco-friendly is that cement's main raw material is limestone and it's obtained naturally.
To add to that, concrete can be recycled and used for other projects like gravel road sub-base. So you're basically doing your part in conserving the environment when you choose a concrete driveway.
Plenty of Options
You have plenty of different options to choose from when you decide on having a concrete driveway. All of those choices can contribute to making your home even more beautiful than it already is.
There are various colors and patterns that you check out and make your choice from. Professionals can easily make those options look like bricks, cobblestones, and bricks. They can help you achieve the exact kind of look that you want for your home's exterior space.
Aesthetic Value
Concrete comes in plenty of different colors, patterns, designs, and textures. That's more than enough to satisfy homeowners that want to make their driveways look great. It also provides an excellent answer to the question of how a concrete driveway can improve your home.
It's also easy to customize its look so it can easily match the look of your outdoor space. All you need to do is ask your contractor to match the design to the overall look so it won't seem out of place.
Requires Low Maintenance
Lastly, concrete requires little maintenance. You don't need to worry much about it because it's one of the simplest things you can do as far as maintaining certain areas of your home.
There is very little need for you to deal with dust, debris, and dirt. This will also result in savings since you won't need to spend a lot on maintenance. Visit your nearest Drive Way Concrete North Richland Hills.